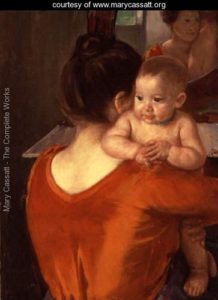 I am writing a new historical fiction series for Lamaze's blog, Giving Birth With Confidence, entitled, "Dear Diary". The people are fictitious, but their experiences reflect common ones for their time period. The series will continue monthly until we reach the end of the 20th century. What you find below are some expanded details from the story which I have written.
You can read the first "Dear Diary" post here. "Dear Diary" – Birth Stories of the Past: Albert Jr., Born May 12, 1900
Chloroform
Chloroform's first known usage during childbirth was in 1847 by a Scottish physician, Dr. James Young Simpson. Queen Victoria used the drug during her labor with Prince Leopold in 1853 and 1857. It was administered with a cloth over a wire framed mask. A few drops were sprinkled onto the cloth and the mother would breathe it is, feeling it's effects shortly thereafter. There were no dosages or limits, or testing, for that matter. Some maternal fatalities with use of chloroform did occur. Chloroform and Ether were the earliest form of medical pain management.
Childbed fever
Childbed fever was the common term for puerperal fever. It's a fever caused by uterine infection after childbirth.
Although the germ theory of disease was proposed in 1546 by Girolamo Fracastoro, and Louis Pasteur and Robert Koch working in 1850's – 1880 provided strong evidence to support germ theory, the theory wasn't widely adopted by physicians.
Ignaz Semmelweis, in 1847 was the first to link puerperal fever to physicians. Physicians would go from performing autopsies, gloveless and without washing their hands, to delivering babies in a ward, one woman after another. Thus spreading germs and disease not only from corpse to mother, but also from mother to mother.
Semmelweis's pleas to his colleagues to wash their hands, were ignored, even though Semmelweis's students, having washed their hands, reduced their cases of childbed fever from 18% to 1%. Joseph Lister continued working on aseptic medical practices in the late 19th century. Physicians were slow to adopt these new antiseptic practices until the early 20th century.
The births in the inaugural "Dear Diary" post take place before the era of aseptic medicine. As we move forward in time, we'll explore new advances and maybe a setback or two.
Please support The Silent Mother by becoming a patron through Patreon.
Your generous donation allows me to keep writing.